Regenexx® Procedures for Knee Arthritis, Meniscus Tears, Tendon & Ligament Tears, Overuse Injuries and Other Conditions.
Regenexx® Procedures are non-surgical injection-based procedures for people suffering from knee pain due to common injuries to the knee Meniscus, ACL,  MCL, and other structures, or who are experiencing degenerative conditions such as Osteoarthritis. These procedures utilize concentrated repair cells that are obtained from your own bone marrow or blood to promote your body's own natural ability to heal.
Traditional options for patients suffering from these conditions include arthroscopic knee surgery to repair ligament tears, meniscus, or total knee replacement. With those surgeries, months of rehab are required, and the patient must be aware of and prepared to take on the risks. As an alternative, Regenexx regenerative orthopedic procedures are designed to help reduce knee pain and improve function with precise highly specific image-guided medical procedures.
Commonly Treated Knee Conditions
This is not a complete list, so please contact us or complete the Regenexx Candidate Form if you have questions about whether you or your condition can be treated with these non-surgical procedures.
Arthritis
Meniscus Tears
ACL, MCL, PCL, or LCL sprain or tear
Knee Instability
Patellofemoral Syndrome/Chondromalacia
Pes anserine bursitis
Baker's cyst
Patellar tendonitis
Biceps Femoris Insertional Tendinopathy
Hamstrings Tendinopathy
Regenexx® Procedures provide non-surgical treatment options for those suffering from pain related to osteoarthritis, joint injuries, spine pain, overuse conditions, and common sports injuries. These medical procedures are only performed by highly-skilled doctors and are used to help reduce pain and improve function. Regenexx procedures have helped thousands of patients improve their quality of life, return to the activities they enjoy, and avoid the need for surgery or joint replacement*.
Regenexx Physicians represent a very selective, highly-skilled, interventional orthobiologics network that is 100% focused on orthopedic conditions. All Regenexx physicians are musculoskeletal experts with extensive training and experience in the diagnosis and treatment of musculoskeletal conditions, as well as complex, image-guided injections of your body's own healing agents to treat orthopedic issues. Regenexx patient outcomes are tracked in a registry and with that information, we provide transparent outcome data (below) for those who may be considering this treatment option.
Want to find out if you are a Regenexx Candidate? Complete the Candidate Form.
Your Alternative to Knee Surgery
Surgical options for those dealing with painful knee issues range from arthroscopic knee surgery to total knee joint replacement. Recent research has shown that some of the most popular arthroscopic surgeries, such as meniscectomy, provide little benefit to the patient. Knee replacement is extremely traumatic and carries risks of chronic pain and toxic wear particles entering the bloodstream. Surgical risks aside, all surgeries require months of painful rehab to regain strength and mobility. Most knee surgeries also accelerate the cascade of degeneration that leads to Osteoarthritis.
We have seen exciting results on difficult cases, such as complete muscle and ligament tears, and we have helped thousands of patients with arthritis avoid knee replacement and continue to do the things they love with little or no pain. Most Regenexx patients experience little downtime from their procedure and are encouraged to return to activity as they begin to feel better.
Your Regenexx Physician will determine if you are, or are not, a Candidate for these procedures and recommend surgery if that's what's needed.
Knee replacement surgery comes with many serious risks and complications, but is often considered to be a straightforward and accepted approach to treatment for those suffering from significant arthritis or injury in this joint. Before you consider knee replacement, learn what Regenexx can do for you.
Meniscus tears are one of the most common injuries we treat. The last option anyone should consider for treating a meniscus injury is the surgical removal of all or some of this important structure. Click below to learn why Regenexx is likely a better choice than meniscus surgery.
Knee ACL tears are a very common injury. The rush to surgery has long been due to the traditional thinking that an ACL will not heal. Our experience treating ACL tears with the Regenexx patented bone marrow concentrate treatment has shown that it may be a better option for those who have experienced a partial or complete non-retracted ACL tear.
Orthopedics 2.0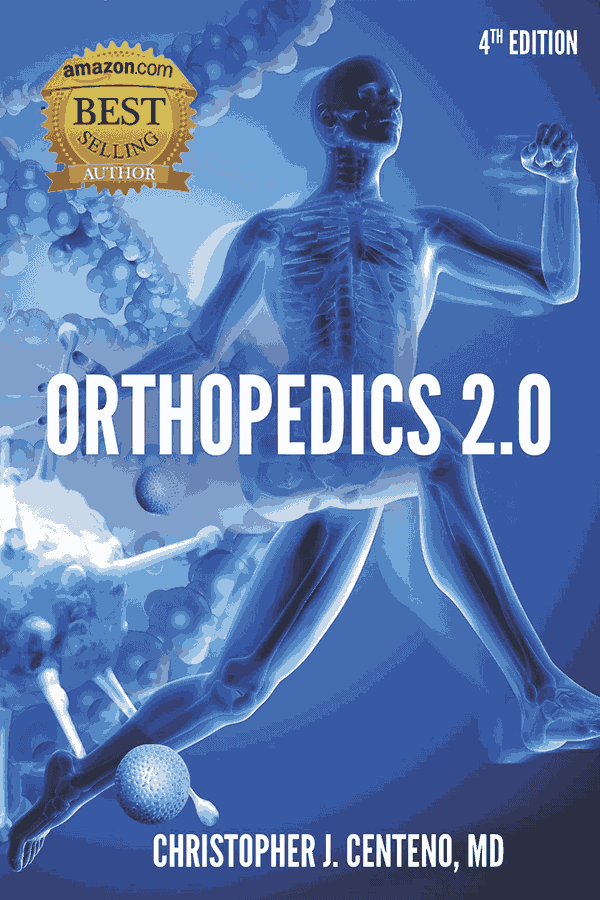 More than 146,699 downloads to date!
Available as a Free PDF download below, or as a Kindle Book from Amazon – It's a #1 Best Seller!
Written by Dr. Chris Centeno, this e-book delves into the human musculoskeletal system and explains how everything works together in concert to maintain our physical wellbeing. When a single component in this chain is damaged, it can lead to a cascade of joint, spine and connective tissue problems, resulting in chronic pain.
Using the Regenexx SANS approach, Orthopedics 2.0 walks you through a series of tests and exercises that you can do on your own to better understand where your own body is struggling to maintain proper stability and alignment, explaining the possible reasons and long term implications along the way. Orthopedics 2.0 also explores how Regenexx is pioneering the new field of Interventional Orthopedics, where the use of regenerative biologic treatments, such as adult bone marrow concentrate and platelet rich plasma, are being used to help repair and strengthen damaged tissues, as opposed to invasive surgeries that often remove important tissues when a joint or the spine becomes damaged.
With hyperlinks to more detailed information, related studies and commentary, this book condenses a vast amount of data and resources into an enjoyable and entertaining read. This is the fourth edition of Orthopedics 2.0 with even more content and graphics.
Download Ebook
Get Started Now
To take the next step and find out whether you are a candidate for our next-generation regenerative procedures, fill out the contact form, and one of our patient coordinators will be in touch with you to help walk you through the next steps.
You can also call us now at 888-547-6667 to speak with a representative immediately.

We do not sell, or share your information to third party vendors.
By submitting the form you agree that you've read and consent to our Privacy Policy. We may use email, phone, or other electronic means to communicate information about Regenexx.
We will provide information to help you decide whether you want to schedule an evaluation with a Regenexx Physician.